The best rabbit nutrition
What is Fresh Green?
✔
We recommend to feed at least one ration (80p per kg rabbit weight) fresh green daily.
You can feed without concerns: meadow herbs – for example grasses, dandelion, plantain, daisies, chamomile, vetches, clover, shepherd´s purse, marigold blossoms, yarrow, cow parsnip
fresh leaves – for example apple leaves, pear leaves, cherry leaves, hazelnut leaves, blackberry leaves
✔
If there is no meadow available, you can use many green vegetables:
lamb´s lettuce, kale, spinach, cabbage, fennel, cucumber, Chinese cabbage, endive, kohlrabi, chard, radish leaves, carrot leaves
✔
Tip: So that the bowel not being unevenly loaded, you should distribute the feed throughout the day.
thin
protruding spine and ribs
lethargy
sunken flanks
ideal
ribs palpable with slight pressure
back is fixed
overweight
rips and shoulder blades rarely palpable
severe fat pads on the belly
lethargy
grunhopper feeding recommendation per kg weight
grunhopper Adult
feeding recommendation: 20-30g
grunhopper Purgrun
feeding recommondation: 30-35g
grunhopper Junior
feeding recommondation: 40g
grunhopper Winter
feeding recommondation: 30-35g
grunhopper Kraut und Ruben
feeding recommondation: 30g
grunhopper Urgetreide
feeding recommondation: 30g
grunhopper feeding plan
❶ structure food
❷ fresh green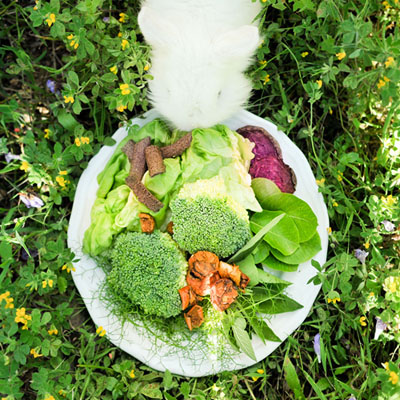 ❸ hay and straw
❹ natural snacks
❺ water